2022 International Multispecies Methods Research Symposium: Shifting Paradigms in Human-Animal Relations
May 24-26, 2022 (Online)

The first Multispecies Methods Research Symposium focusing on IIC took place in May, 2022 with over 240 registrants. 

Please email multispecies.symposium@usask.ca for access to the 2022 Symposium materials. This includes accepted papers and presentation submissions and recordings of keynote presentations.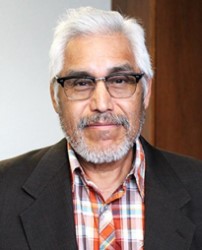 Michael Yellow Bird, MSW, PhD, is Dean and Professor of the Faculty of Social Work at the University of Manitoba. He is an enrolled member of the MHA Nation (Mandan, Hidatsa, and Arikara) in North Dakota, USA. He is the author of numerous scholarly articles, book chapters, research reports, and the co-editor of four books: For Indigenous Eyes Only: The Decolonization Handbook, 2005; For Indigenous Minds Only: A Decolonization Handbook, 2012; Indigenous Social Work around the World: towards Culturally Relevant Education and Practice, 2008; and Decolonizing Social Work, 2013. 
The title of his talk is Rez Dog Chronicles.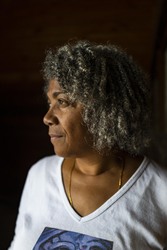 Rosalyn Berne, Ph.D, is a professor, ethics scholar, equine empath, and author of many articles and five published books including a near-term science fiction novel, two academic works on ethics, and two books which document her own personal experiences of intuitive interspecies communication: When the Horse Whisper and Waking to Beauty.
Dr. Berne will share the inception and evolution of her experiences of intuitive interspecies communication, including her direct experiences communicating with animals and the moral compass she uses to guide such encounters. She will also share how these experiences have begun to shape her scholarship, and how as a professor of engineering ethics, she is using interspecies communication as a foundation for an academic inquiry into human and planetary wellness. This work is inspired by the hope that if the capacity of human and non-human animal communication can be established as experientially valid, and the connection it represents can be shown to be of value in the dominant, technological culture, then that knowledge could redirect human activity into more deeply attending to an ethical responsibility for the non-human animals of the planet. For more details click here.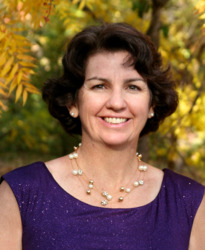 Dr. Cara Gubbins began conducting scientific research as a high school student. She holds a PhD  in Ecology, Evolution, and Conservation Biology and has published her research on dolphin ecology and behavior in peer-reviewed scientific journals. Cara and her research have been featured on BBC, the Discovery Channel, CNN and National Geographic Specials. In 2012, Cara returned to graduate school and completed an MA in Spiritual Psychology with an emphasis in Consciousness, Health and Healing. For over a decade she has been a professional animal communicator and animal communication instructor for clients around the world. She is author of 5 books spanning the topics of natural history of animals, animal communication, and personal growth. Each year, she hosts the Animal Communicator and Healer online summit, bringing together thousands of animal communicators from all over the world. 
In her keynote presentation, Dr. Cara Gubbins will share her perspective on the history and future of the field, highlighting the need for scientific collaboration, documentation, and study. For more details click here.
Opening and Closing Presenters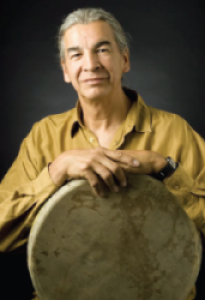 Joseph Naytowhow is a gifted nehiyaw (Woodlands/Plains Cree halfbreed) storyteller and ceremonialist from the Sturgeon Lake First Nation in Saskatchewan. As a child, Joseph was influenced by his grandparents. His grandfather was a ceremonial leader and part of the nehiyaw hunting tradition. His grandmother was a herbalist and healer.
Joseph will open the event by providing some context for this work, call for guidance from the ancestors, and may offer an honour song.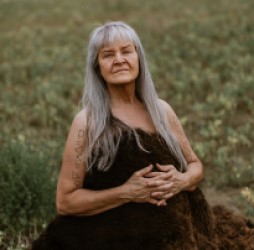 Cheryl L'Hirondelle (Cree/Halfbreed; German/Polish): interdisciplinary artist, singer-songwriter, thinker! Her family roots and connection to land are from Papaschase First Nation / amiskwaciy wāskahikan (Edmonton) and Kikino Metis Settlement, AB. Her interdisciplinary work investigates and articulates a dynamism of nēhiyawin (Cree worldview) in contemporary time-place to create immersive environments towards 'radical inclusion' and decolonisation.
As a songwriter, L'Hirondelle's focus is on both sharing nēhiyawēwin (Cree language) and Indigenous and contemporary song-forms and personal narrative songwriting as methodologies toward survivance. Cheryl has exhibited and performed nationally and internationally and is the recipient the 2021 Governor General's Award in Visual and Media Art. She is currently a PhD candidate at SMARTlab/University College Dublin.
Cheryl will gift us with the song "gchi miigwech maskihkiya". Written in 2 languages - Anishnaabemowin and nēhiyawēwin, the song was inspired by Robin Wall Kimmerer's book Braiding Sweetgrass where she states "the plants have their own stories and their own songs."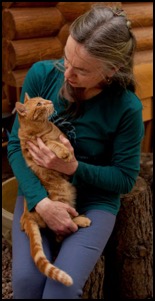 An early leader in the field of contemporary intuitive interspecies communication, Penelope Smith is well-known across the world as a teacher and role model for those who are learning, re-learning or awakening their ability to intuitively communicate with animals. Her book Animal Talk has been republished at least 8 times and translated into over 15 different languages. She is the author of the 'Code of Ethics for Interspecies Telepathic Communicators' originally published in 1990 in Species Link: The Journal of Interspecies Telepathic Communication.
Penelope will be joining the symposium and close the event by providing translations from intuitive communications with animals.
Background
The precarity of this time demands a radical shift in human activity and reorientation toward the bio-systems that sustain us. Innovative methods to directly engage animal voice and agency are called for, being developed, and remembered (Barrett et al., 2021a; Buller, 2015; Erickson et al, 2016; McInnis et al., 2019; Wijngaarden, accepted). This international, online symposium focuses on the practice of intuitive interspecies communication (IIC) as practiced by professional animal communicators. Using a wide range of intuitive methods, animal communication practitioners (ACs) experience two-way communicative exchanges with non-human animals – both domestic and wild. This includes "an exchange of visceral feelings, emotions, mental impressions and thoughts, embodied sensations of touch, smell, taste, sound, as well as visuals in the mind's eye. While these exchanges can occur when in direct physical proximity to the animal, they can also occur over great distances and without the need for visual, auditory, olfactory, voice or other cues that humans normally associate with direct interactive communication" (Barrett et al., 2021a, p. 151). Many who work as animal communicators have been spontaneously communicating with animals since childhood, while others have developed their capacities as adults. In practice, IIC facilitates opportunities for deeper understandings across species and, with the help of skilled practitioners, engages with animals as active partners.
Working in-person or at a distance, ACs are frequently called upon to provide information to an animal, help resolve challenging health and behavioural problems, and strengthen human-animal communication, understanding and partnerships. On a broader scale, IIC has also been identified as a possible lever for transformative change for species in crisis, including, or perhaps especially, humans (Barrett et al., 2021b). These practices "share some epistemological, ontological and axiological similarities with interspecies communication in Indigenous contexts (Deloria, 2006)" yet IIC is not limited to Indigenous peoples (Barrett et al., 2021a, p. 150). IIC is carried out by individuals across many cultures and walks of life and it has been shown to be able to be enhanced with practice. A common thread involves interacting with other species in less anthropocentric ways than is supported by dominant, pervasive paradigms that guide much current thinking and action.
References
Barrett, M. J., Hinz, V., Wijngaarden, V., & Lovrod, M. (2021a). Speaking with other animals through intuitive interspecies communication: Towards cognitive and interspecies justice. In A. Hovorka, S. McCubbin, & L. VanPatter (Eds.), A research agenda for animal geographies (pp. 149–166). UK: Edward Elgar Publishing.
Barrett, M.J., Hoessler, C. Seel, K., Wall, C., Jackson, J. (2021b). Pathways to post-anthropocentric ways of knowing and being: Learning from professional animal communicators' journeys beyond human exceptionalism.
Buller, H. (2015). Animal geographies II: Methods. Progress in Human Geography, 39(3), 374–384. https://doi.org/10.1177/0309132514527401
Erickson, D. L., Ph, D., Fisher, D., Woelk, B., Buckner, W., Ed, D., & Ashley, C. (2016). A mixed methods study of telepathic interspecies communication with therapeutic riding horses and their recovering wounded veteran partners. NeuroQuantology, 14(2), 404–427. https://doi.org/10.14704/nq.2016.14.2.953
McGinnis, A., Kincaid, A., Barrett, M. J., Ham, C., & Community Elders Research Advisory Group (2019). Strengthening Animal-Human Relationships as a Doorway to Indigenous Holistic Wellness. Ecopsychology, 11(3), 162–173. https://doi.org/10.1089/eco.2019.0003
Wijngaarden, V. (accepted, 2022). Interviewing animals through animal communicators: Potentials of intuitive interspecies communication for multispecies methods. Society and Animals.
Submission is a two-stage process, including first, submission of a short summary (abstract), followed by a more developed presentation or paper in early May. The symposium committee invites the following types of submissions with direct connections to Intuitive Interspecies communication (IIC):
Case studies of IIC Applications 

Research Studies

Practitioners' Perspectives on Issues or Experiences in the Field

Conceptual or Theoretical Perspectives


Other (please specify in submission portal)
Topics may be related to, but not exclusive of the following topics: 
Ethical implications of using IIC

Examining the human-nature dualism through the lens of IIC

Impacts of engaging with IIC - on humans

Impacts of engaging with IIC - on animals

Asking an animal for consent
Processes for establishing a connection with an animal
Specific strategies and approaches for communicating with wildlife
Grappling with doubt and what constitutes evidence

IIC and efforts to engage animal's subjective experiences 

IIC methods, approaches or explanations

Interdisciplinary synergies and contributions (e.g. cognition, neuroscience, education, transpersonal psychology, Indigneous studies, sociology, natural resource management, social work, veterinary practice, intersectional analysis)

Studying IIC – what research methods and paradigms are appropriate?

Issues of validity and accuracy

Future of the profession
Expressing the experience: in-depth description of what you experience during a communication

Who is responding? Scope of possibilities and probabilities

Metaphors and explanations: how to describe and explain IIC
Case studies: examples of communications, and what happened as a result (domestic and wild animals)
Case studies of applications with partner organizations (e.g. SPCA, Zoos, Veterinarians etc.)
Case Studies: other - what did you do? how did it turn out?

Implications of IIC related to: 

Rights of Nature movements

Epistemological pluralism 

Reconciliation with Indigenous Peoples

Human-animal bond

Animal care and well-being

Standards of practice (for professional ACs)

Cognitive justice

etc.
Methodologies for researching IIC 
*Note: Researchers working within universities must have appropriate ethical approval. If making a submission from outside a university, if your submission includes individuals other than yourself, be sure to get permission or appropriately anonymize your submission so that participants and/or partner organization is not identifiable.
* Click here for a copy of details that will be requested in the abstract submission portal. 
This is a two-stage process. Stage 1 consists of an approx. 350-word abstract that is reviewed by the committee. In Stage 2 accepted submissions will be invited to submit a full paper or presentation in one of the following formats:
Written submission (1000-3000 words, plus references and abstract)

12-minute pre-recorded oral presentation
Have the following information ready when you submit your abstract:
Title

Author(s) and contact information

Intended audience (who would most benefit from your paper)

Type of submission: Case study, research paper, perspective piece

Approx. 350 words describing the substance and focus of the paper in a way that conveys the central message or findings and relevant context (as appropriate to the submission type).
Up to 6 key words that best describe the content and focus of your submission
*Click here for a copy of complete details that will be requested in the abstract submission portal. 
You do not have to make a submission to attend the symposium.
Submissions will not be presented at the symposium but will be available to all participants for pre-viewing. A portal and instructions for uploading submissions will be provided once acceptance notices are sent out.
You must register for the symposium separately from making a submission. 
Event Schedule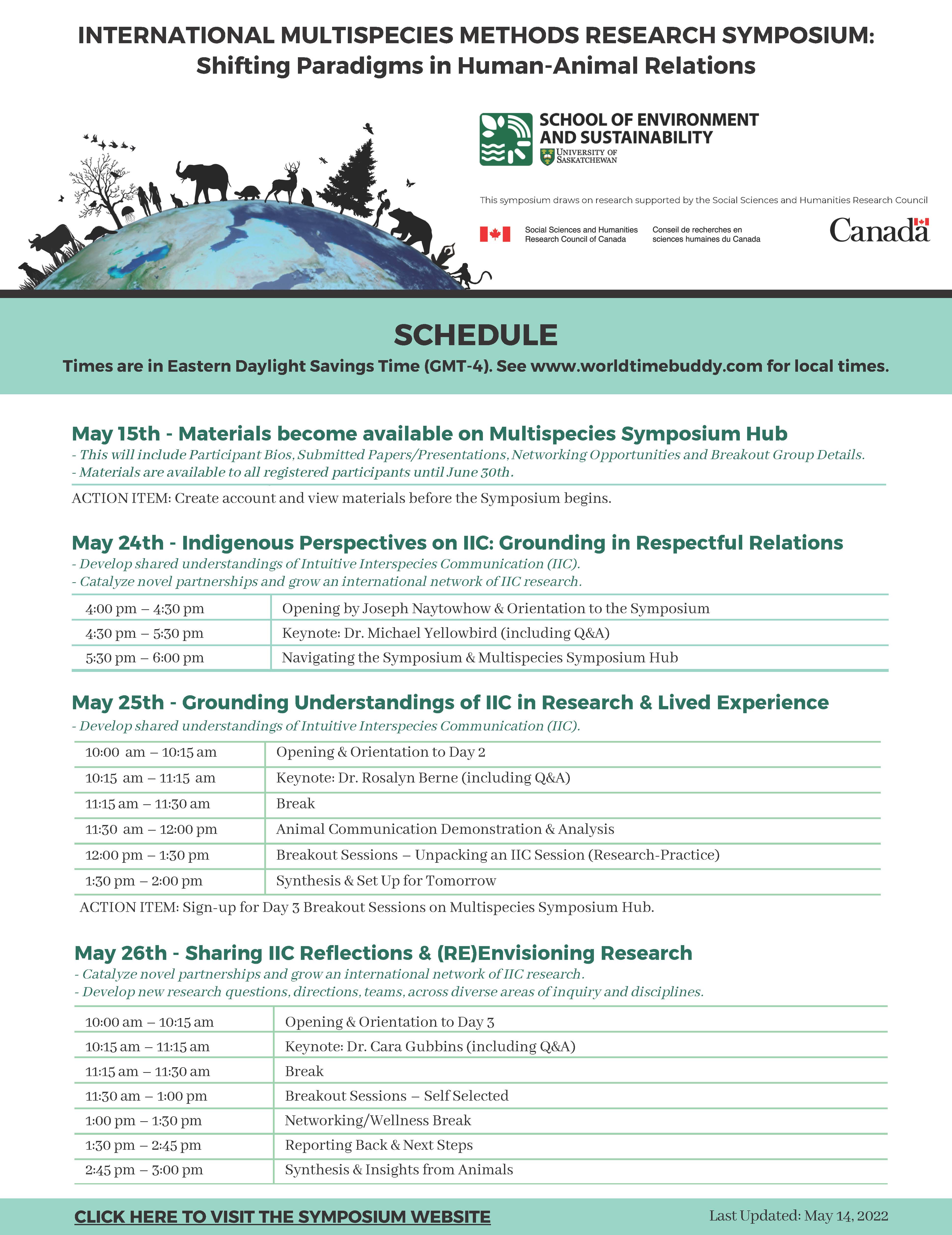 To support intersectoral engagement and partnership building, we ask registrants to provide a brief bio and, if desired, information on publications and where participants can find out more about their research and/or practice.  Please have this information ready at the time of registration.
This information will be compiled and available to participants in the symposium pre-viewing platform,  accessible via a link provided to all registrants and symposium organizers. Please only include information you are willing to have shared.
*If the fee is a barrier to participation, please contact us at multispecies.symposium@usask.ca
Code of Conduct
The goal of this symposium is to create a respectful space for all to engage in dialogue focused on intuitive interspecies communication (IIC).
The International Multispecies Methods Research Symposium: Shifting Paradigms in Human-Animal Relations is intended for a diverse audience of researchers, practitioners and other individuals interested in intuitive interspecies communication – often known as "animal communication" in lay terms.
We value the participation of each registrant and want all attendees to have an enjoyable and fulfilling experience. Accordingly, all attendees are expected to show respect and courtesy to other attendees throughout the symposium events.
To make clear what is expected, all delegates/attendees, speakers, organizers and volunteers at the International Multispecies Methods Research Symposium: Shifting Paradigms in Human-Animal Relations are required to conform to the following Code of Conduct. Organizers will enforce this code throughout the event. 
 International Multispecies Methods Research Symposium: Shifting Paradigms in Human-Animal Relations is dedicated to providing a harassment-free conference experience for everyone, regardless of gender and gender identity, sexual orientation, disability, physical appearance, body size, race, religion or species. We do not tolerate harassment of conference participants in any form. 
All communication should be appropriate for a professional audience including people of many different backgrounds. Avoidance of colonizing language is requested. Sexual language and imagery is not appropriate for any conference venue, including talks and small breakout rooms. 
Be kind to others. Do not insult or put down other attendees. Behave professionally. Remember that harassment and sexist, racist, or exclusionary jokes are not appropriate for International Multispecies Methods Research Symposium: Shifting Paradigms in Human-Animal Relations. 
Attendees violating these rules may be asked to leave the symposium without a refund at the sole discretion of the event organizers. 
Thank you for helping make this a welcoming, friendly event for all
If you are being harassed, notice that someone else is being harassed, or have any other concerns, please contact: 
We will be happy to assist those experiencing harassment to feel safe for the duration of the sympoisum. We value your attendance. 
Attendee Procedure for Handling Harassment
This procedure has been adopted from the Ada Initiative's guide titled "Conference anti-harassment/Responding to Reports" and PyCon 2017's policy.
Contact staff personnel (Avantika Mathur-Balendra) (info below). The staff will also be prepared to handle the incident. All of our staff members are informed of the code of conduct policy and guide for handling harassment at the conference. There will be a mandatory virtual staff meeting prior to the conference when this will be reiterated as well.
Report the harassment incident (preferably in writing) to Avantika- all reports are confidential.
When reporting the event to staff, try to gather as much information as available, but do not interview people about the incident - Staff will assist you in writing the report/collecting information.
The important information consists of:
Identifying information (name) of the participant doing the harassing
The behavior that was in violation
The approximate time of the behavior (if different than the time the report was made)
The circumstances surrounding the incident
Other people involved in the incident
The staff is well informed on how to deal with the incident and how to further proceed with the situation.
If everyone is presently physically safe, staff will involve law enforcement or security only at a victim's request. If you do feel your safety in jeopardy please do not hesitate to contact local law enforcement by dialing 911. If you do not have a cell phone, you can use any hotel phone or simply ask a staff member.
All reports should be made directly to:
Avantika Mathur-Balendra:  avantika.mathur@usask.ca
This Code of Conduct was forked from the PyCon 2017 Code of Conduct which was forked from the Geek Feminism wiki, created by the Ada Initiative and other volunteers which is under a Creative Commons Zero license. Conference Code of Conduct is licensed under a Creative Commons Attribution 3.0 Unported License.