Research Area(s)
heat transfer
protective clothing
fire science
fire protection engineering
codes and standards
bioheat transfer
Biography
Prior to joining the University of Saskatchewan, Prof. Torvi worked as a Research Officer with the Fire Research Program at the National Research Council of Canada. Before beginning graduate studies, he spent three years in industry designing HVAC equipment. Prof. Torvi is active in a number of technical societies and standards organizations, including ASEE, ASHRAE, ASTM, CGSB, ULC and SFPE.
Education
Ph.D., 1997, Mechanical Engineering, University of Alberta
M.Sc., 1992, Mechanical Engineering, University of Alberta
B.Sc., 1987, Mechanical Engineering, University of Calgary
Research Projects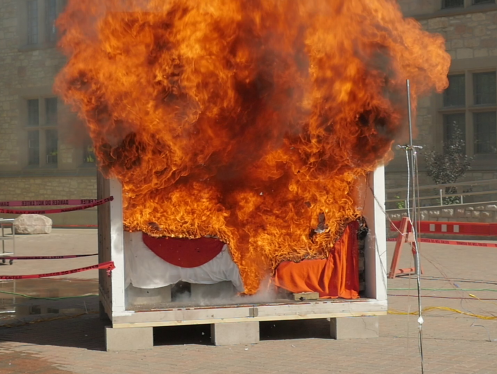 Prof. Torvi and his students conduct numerical and experimental research aimed at improving the knowledge of heat transfer in materials, mainly under high heat flux conditions.  His research has been funded by NSERC, CFI and the Canadian Space Agency.  Current research projects include: 
evaluating the performance and durability of protective clothing,
correlating small and full-scale fire test results of materials & products, and
developing models of heat transfer in fire and in human skin.
Courses
Prof. Torvi teaches undergraduate and graduate courses in thermal fluids and design, including teaching the deparment's core heat transfer course (ME 327) and serving as a faculty advisor in second and fourth year design courses (ME 229, ME 495).  He also offers a technical elective in Fire Protection Engineering (ME 478), one of only a few courses in this area in North America.  Prof. Torvi has published several papers on course development, fire protection engineering education, and engineering education instructional programs for graduate students.
Graduate Theses
Here is a list of graduate theses written and supervised by Prof. Torvi.
Graduate Student Opportunities
Information on graduate student opportunities within the fire research group.